DYLAN 7th Consortium Meeting - Ljubljana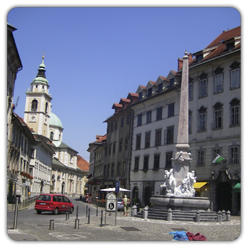 At the end of October 2010, the DYLAN met at the University of Ljubljana in Ljubljana, Slovenia for the 7th Consortium Meeting.
The Slovene capital opened its doors to some 60 researchers ready to sharpen their brains for one of the last occasions to meet all together before the end of the project.
As it has become an habit, an open session was held on tuesday 26 October 2010. This DYLAN Open Session took place in the beautiful plenary hall (Zbornična dvorana) in the 1st floor of the central university building in Kongresni trg 2.
Ljubljana, the capital of Slovenia, lies between the Alps and the Adriatic Sea, in a basin where the Ljubljanica river flows into the Sava. It has all the facilities of a modern capital, and yet it has preserved its small-town friendliness and relaxed atmosphere. This vibrant city, full of cultural events and historical surprises, is also renowned for its wide variety of culinary delights.
The University of Ljubljana was founded in 1919 and remained the only Slovene university for half a century. Today it has more than 63,000 students, 4000 higher education teachers, 23 faculties and 3 academies.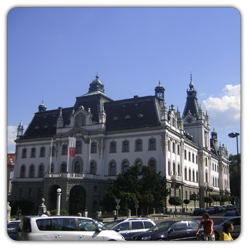 The university's central office and the majority of schools are situated in the centre while several newer buildings are situated throughout urban Ljubljana. Its students comprise more than one-seventh of Ljubljana's population, giving the city a youthful and lively character.